Joined

Apr 11, 2018
Messages

1
Everything started 2 years ago, where my tooth had a big black hole until it started hurting very badly to a point where I can't close my mouth.
I received a treatment right a way, they opened the tooth and started cleaning a bit so it will not be painful.
Since the pain has gone, I stopped the treatments, till the pain came back again.
Now repeat this 4 times, until I realized that I really have to have a serious go on that tooth and fix it.
I paid $2000 for root canal and a crown before even starting to work on it.
The dentist took 2 months or so on the canal root there, and finally closed the roots and put down the crown.
2 months later, I feel a bad pain on the tooth and 2 teeth next to it, and the side of my jaw started to blow.
The dentist gave me Augmentin 875 and it killed the pain and the blowing.
The situation of my tooth that that moment was this (my special drawing from what I remember):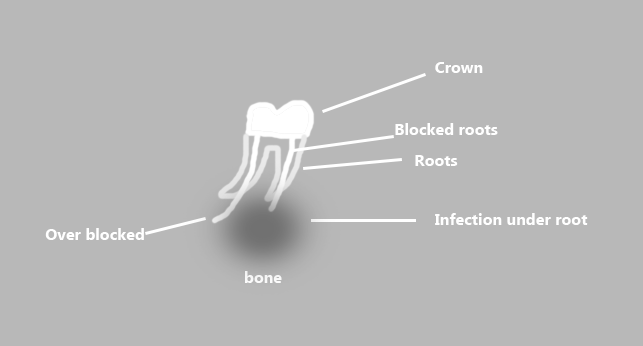 After I finished the antibiotics, I came back and he took a look at the x-ray, and said that renewing the canal root mostly wont fix the issue, we can extract it and finish with it but we really need to help the tooth.
He said okey, we will do a small surgery and cut down a small piece of your root and clean the infection.
So after the surgery (idk what he did but it hurts):
Something like this, he drilled my jaw I think to clean the infection, and cut a small piece of my right side root.
Now I have side effects like blowing on my jaw and a bit of pain.
Just asking, is this treatment real? Like something that really happens and can help? have u heard of it?